Yorkie terrier T-CUP
DOB: 10/29/13


Reg:

CKC.


Gender:

FEMALE


Color

: black/tan


Size

: 2-4 LBS


Price

:
$1200.

So tiny,
weighs in a 21 oz.
vet checked, 1 year health guarantee, ready to go.
CASH SALE ONLY and no shipping
Available:now
NO CHECKS ACCEPTED

Call John at 352-238-3305

SHORKIE terrier
CHEE-KEE
DOB: 6/2/13


Reg:

no reg.
Gender: female


Color

: black


Size

: under 6 lbs.


Price

:

$375

.
CASH SALE ONLY
Available: now
NO CHECKS ACCEPTED


* All pedigree pups are supplied with a CKC registration. No AKC reg's are available. Pups have a 1 year warranty against inherited or congenital defects that are life threatening


* We accept deposits of $200.00 or more on pups under 8 weeks old. No deposits accepted after 8 weeks old unless arrangements are made earlier. Purchased by Pay pal, or cash for shipping or pick up. Balance to be paid at time of booked flight or pick up. All transactions must be completed within 5 business days. I don't board dogs. If you purchase a pup and need to board it before taking it home please find a kennel in your area for this.


DEPOSITS ARE NON- REFUNDABLE



15147 Highfield Road, Brooksville, Florida 34604 352-593-6141
Copyright preciouspupsofflorida.com



Welcome to Precious pups of Florida
Thank you for visiting.


Bringing you the best in Shih Tzu and Yorkshire terriers.
Thank you for your visit we hope you can find that adorable companion here.

Any pups that are not of age may be reserved with a $200 deposit.

Call if you are interested in a pup. You can find my address and phone # on the bottom of the page.

In my many years I have come to a conclusion that one useless man is a shame, two is a law firm, and three or more is a congress. -
John Adams (1735-1826)


Breeding pet quality pups since 1986
NO CHECKS ACCEPTED. CASH sale ONLY
I do not accept checks of any kind or credit cards. CASH SALE ONLY
Due to the slow economy I will be taking deposits on pups and then getting there health certs. unless specified otherwise. If you see a pup you like please let me know and make that deposit so he/she can see the vet for the check up and certs.

Shih Tzu, Yorkie, Shorkie, designer Yorkies, Yorkshire Terrier, Teacup yorkie puppy, Yorkshire Terrier, yorkie breeder, Shih Tzu breeder, yorkies, teacup tiny, yorkie pup, (miniature, tiny, toy) for sale. teacup

Click the logo for Directions
John 16:33
King James Version
These things I have spoken unto you, that in me ye might have peace. In the world ye shall have tribulation: but be of good cheer; I have overcome the world.

"Keep your lives free from the love of money and be content with what you have, because God has said, "Never will I leave you; never will I forsake you." So we say with confidence, "The Lord is my helper; I will not be afraid. What can man do to me?""
Hebrews 13:5-6


Greed unchecked by moral restraint will create a nation of paupers and kings, it is our duty as citizens to restrain the wealthy from behaving in a way that is helpful only to themselves and harmful to the majority.
Yorkie terrier
DOB: 11/7/13
Reg: CKC


Gender:

male


Color

: Blk/tan


Size

: standard


Price

:
CASH SALE ONLY
Available: now
vet health cert
NO CHECKS ACCEPTED
call 352-796-8355


Psalm 145:8-9
King James Version
The LORD is gracious, and full of compassion; slow to anger, and of great mercy. The LORD is good to all: and his tender mercies are over all his works.

Face book sponsors a lost and found for Hernando county, Florida. If you have lost or found a pet please post there so they can be relocated with their owners.

Dogs for Allergy Sufferers

Because all dogs have a protein in their saliva and dander (flakes of dead skin) to which some people may be allergic, there's no such thing as a hypoallergenic dog. Yet some dogs do produce less dander, while others shed less and so don't drop as much dander-laden fur around the house. A few dogs that allergy sufferers may consider include schnauzers, poodles, bichon frises, and Portuguese water dogs.

Yorkie terrier T-CUP
DOB: 10/29/13


Reg:

CKC.


Gender:

FEMALE


Color

: black/tan


Size

: 2-6 LBS standard


Price

:

Active loving babies, 8 wks, vet checked, 1 year health guarantee, CKC registered, ready to go.
CASH SALE ONLY Available:now
NO CHECKS ACCEPTED
Call John at 352-238-3305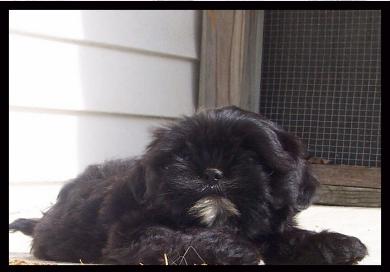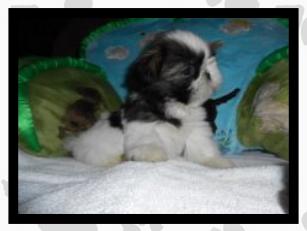 Breed: Shih-Tzu
* Price: $450
DOB: 11/27/13

* Sex: male
* Color: Brindle/white
* Registry: C.K.C
* Medical History: vet checked
* Health cert:
* Available: now
* Expected adult weight 10-14 lbs
call 352-238-3305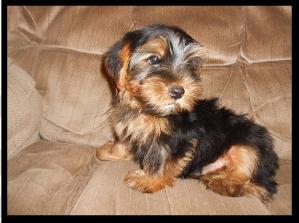 Psalm 37:23-24

King James Version The steps of a good man are ordered by the LORD: and he delighteth in his way. Though he fall, he shall not be utterly cast down: for the LORD upholdeth him with his hand.